Team 1676 is very grateful for the endless support of their mentors, parents, friends, and family. Proving the team saying, "Once a Pi-oneer, always a Pi-oneer," our mentors are not only our teachers, but also parents of team members and alumni. We have mentors from the local business community who caught "FIRST Fever" and continue to mentor the team year-after-year.
Mentor List
Alumni Mentors
Jack Teadore

Head Coach – Programming – Electrical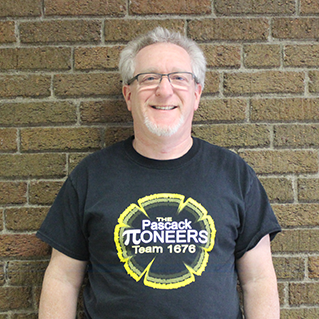 This is Jack's fifth year as Co-Head Coach after being a mentor with the Pascack Pi-oneers for the past fourteen years. He received his Master's Degree from NYU Polytechnic University in Computer Science and brings with him a knowledge of electronics and programming. Jack has worked for several Internet companies designing and constructing communications systems and today has his own consulting company, JGT Computer Solutions, where he designs custom system solutions using hardware, software and computer networks. In his role as the Control Systems Mentor, he teaches team members advanced methods for programming the robot along with the use of sensors to enable the robot to accomplish its tasks. He also was a co-coach for a 3-time New Jersey State Championship FIRST LEGO League Team and during that time the team won the FLL World Championship Research/Project Award. Jack has also taught robotics at the Gifted Child Society in Allendale NJ.
James "Doc" Whitfield

Head Coach – Mechanical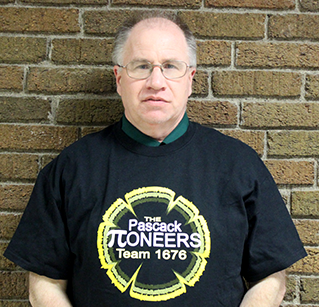 This marks Jim's fifth year as Co-Head Coach after being a mentor with the Pascack Pi-oneers for the past twelve years. He has an undergraduate degree in Animal Science and Biology and his Master's Degree and Ph.D is in Anatomy and Pathology from the University of Kentucky. Jim teaches Biology, Anatomy & Physiology, and Ethics. Prior to working at Pascack Hills High School, Jim had worked as a research associate and taught at several different universities including the University of California San Diego, Purdue University and Veteran's Affairs Hospital at the University of Utah. Jim has traveled extensively in Europe and South America. He is committed to education and currently serves as a science curriculum advisor to a group of private schools in India. Jim works as an all-around team mentor helping out wherever is needed, keeping team members organized and on task, as well as transporting the robot and equipment to and from competitions.
Kevin Killian

Team Coach – Mechanical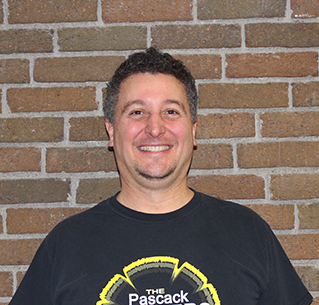 Kevin is currently the Pascack Pi-oneers' lead Mechanical Engineering mentor, and was the head coach from the 2008-2009 season to the 2016-2017 season. He earned a Bachelor's Degree in Mechanical Engineering from Massachusetts Institute of Technology, a Master's Degree in Mechanical Engineering from Columbia University and a Master of Business Administration from New York University. Kevin worked as an engineer, engineering manager, and Director of Operations during his 20-year engineering career, which included producing space-flight hardware. During this time he was awarded seven U.S. Patents. He has been a math teacher at Pascack Hills High School since 2003 and was named the Pascack Hills Teacher of the year in 2018.

Kevin became a mentor/coach of the Pi-oneers at the team's inception in the 2004-2005 season. He instituted recruiting activities that have increased the team from a typical size of 40 members before he became Head Coach to 80-90 members since taking the helm. He also created many of the familiar aspects of being a Pi-oneer, including Pi-Tech training, design reviews, our engineering notebook, performance reviews, the team scorecard, and most of our internal safety practices. Additionally, Kevin led Team 1676 to significantly support the local middle school FIRST LEGO League Robotics competition, by instituting mentoring of the middle school teams plus hosting of the Bergen Brickfest N.J. FLL QualifyingTournament. He led the proposal and program efforts of the Pi-oneers' grant from the N.J. Dept of Education for forming new FIRST Tech Challenge teams in underserved areas of Bergen County. This past season, he was honored with the Woodie Flowers Finalist Award for the FIRST Mid-Atlantic Region.
Lisa Ruggieri

Team Coach – Management, Outreach, & Design (MOD)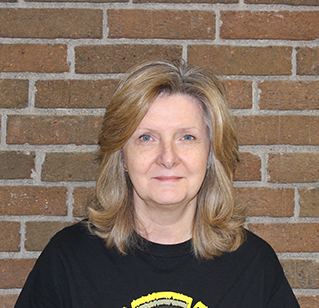 Lisa has been a coach and mentor with the Pascack Pi-oneers for the past eighteen years, beginning when her son was a founding team member. She founded the Pascack Pi-oneers Parent Association, serving as President and presently is Team Liaison. She is the Management, Outreach, and Design Lead Mentor, guiding the Pi-oneers to the many non-robot awards they have won. Lisa is liaison to the FIRST LEGO League teams the Pi-oneers mentor, and recruited those school districts to join FIRST and start their own teams. She co-coached one of those teams at their inception and also began two FIRST LEGO League Jr. teams in district elementary schools as well as in a local library. Lisa is also Lead Mentor for Team Fundraising, reaching out to parents, community and corporations.
Steve Mertz

Carpentry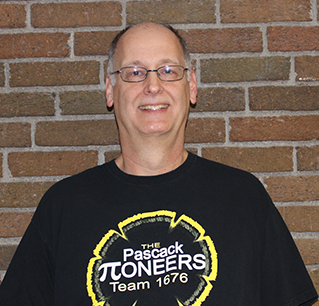 Steve has been a mentor with the Pascack Pi-oneers for the past fifteen years. Prior to retiring, he was a National Service Delivery Manager with Xerox Corporation, providing advanced networked business solutions to Large Enterprise Operations. Steve has a degree in Electronics Technology and is a Certified Technical Trainer. He mentors the Carpentry and the Mechanical Sub-Divisions. Steve's daughter Nicole is an Alumnus of the team and he credits her with getting him involved with the Pi-oneers.
Joe Pantalone

Chassis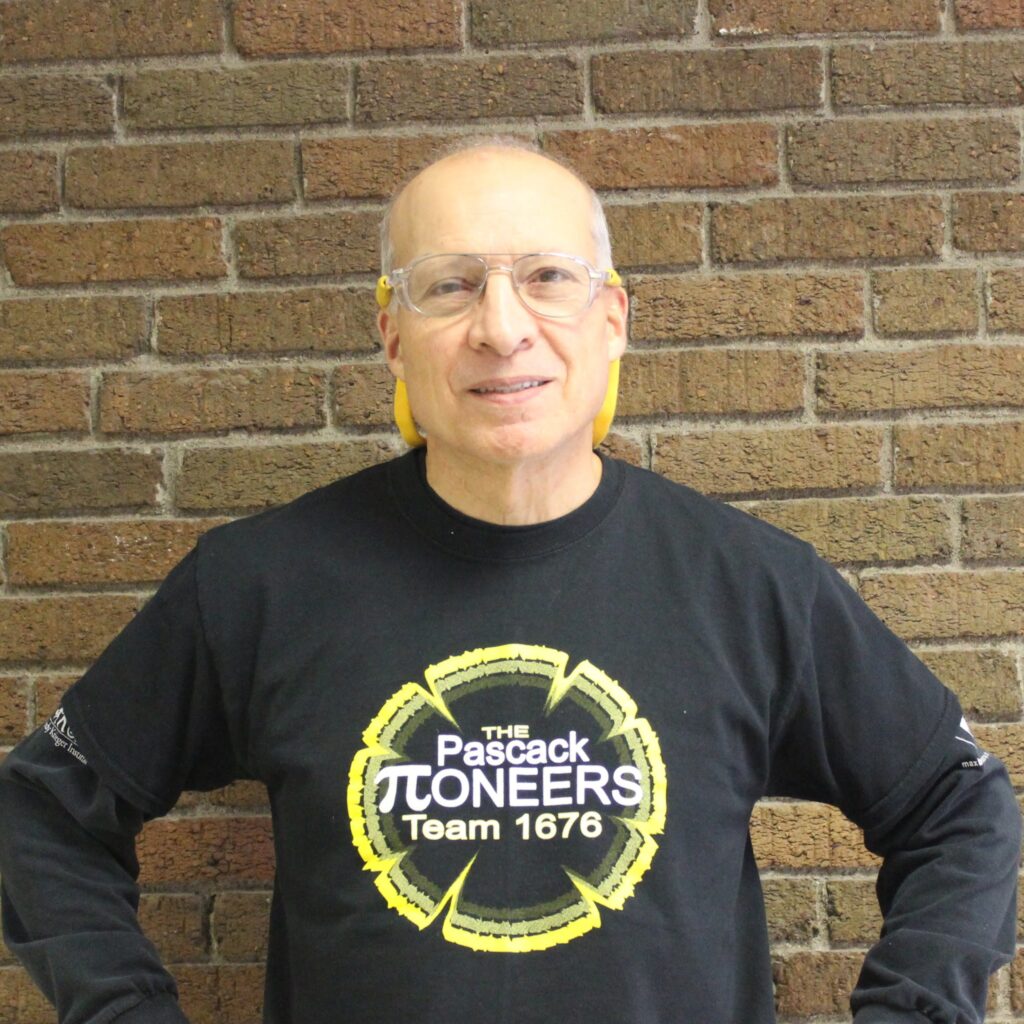 Joe has mentored the Pi-oneers for fifteen years, with both the Mechanical and the Chassis Sub-Divisions. His academic background is in marine structures as well as having an MBA from FDU. Professionally, he is an expert in the field of composite materials and processing, specializing in cored construction of fiber-reinforced plastic structures. Joe is the proud parent of a Pi-oneer alumnus and has continued on with the team since his daughter's graduation in 2009.
Ilene Rein

Management, Outreach, & Design (MOD)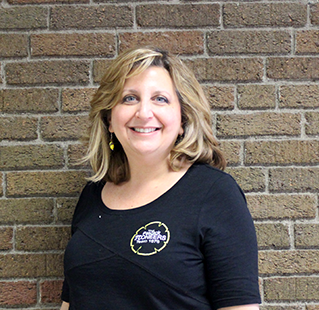 Mrs. Rein is a Mentor for the Management, Outreach & Design Division working with the marketing, animation, website and media teams for the past twelve years. Her early career was in Design and Marketing. She is currently a Senior Recruiter at Marketing & Sales Resources, Inc. which specializes in the Executive Search for Marketing and Sales professionals in the industrial products, B2B channels. Combining her marketing and recruiting backgrounds, she developed the business Pounding Pavement 101 which provides workshops, lectures and private consulting to young adults entering the workforce in job hunting, how to write a resume, digital presence, interview preparation all from the view of a Recruiter. Mrs. Rein's daughter and son are both team alumni.
DJ Solleder

Electrical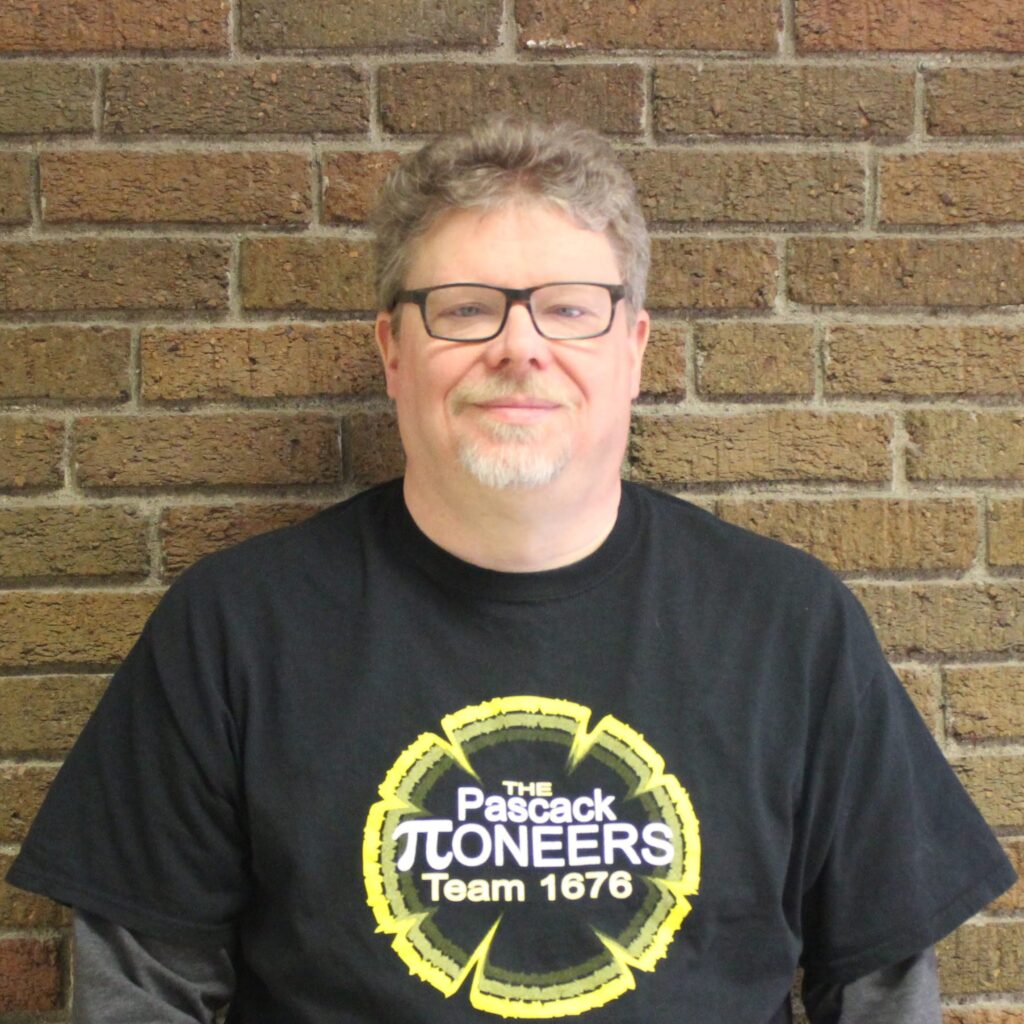 DJ has been a mentor with the Electrical Sub-Division for the Pascack Pi-oneers for the past ten years. He received his bachelor's degree from NJIT in Mechanical Engineering and completed a four year electrical apprenticeship for the IBEW. He has worked in the electrical construction field since 1984 and has been an electrical instructor since 1989. He is currently the senior instructor for IBEW local 164, specializing in electrical theory, alternate energy, and life safety. DJ has also served on the National Curriculum development committee for the electrical industry writing curriculum for fire safety training.
Robert Nussbaum

Finance – Management, Outreach, & Design (MOD)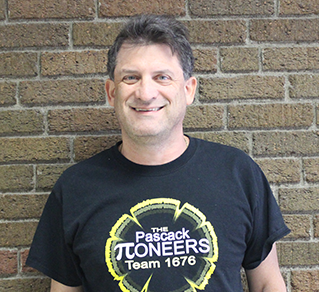 Rob has been a mentor with the Pascack Pi-oneers for ten years, working with the Management, Outreach & Design Division, in particular as the Finance Sub-Division mentor. He graduated from the University of Pennsylvania and earned a law degree from Seton Hall University School of Law. Rob is an attorney who specializes in civil litigation and also works with a not-for-profit organization, Volunteer Lawyers for Justice, by providing legal services to low-income debtors in the area of consumer law. Rob's son was a four-year member of Team 1676 and, after his son graduated, Rob continued volunteering to assist the Pi-oneers with fundraising and writing grants to obtain corporate sponsorships.
Carl Kiel

Mechanical – Electrical – Robot Programming
Carl has been a mentor with the Pascack Pi-oneers for nine years. He received his MBA from Long Island University, MSEE from New York University, and his BEE from CCNY. Carl worked at BAE SYSTEMS as Senior Principle Systems Engineer and developed mobile communications systems for the digitized US ARMY, and navigation systems for bombers, fighters and missiles. In his role as mentor, Carl has contributed to the Engineering Notebook, provides senior level input during robot requirements development, provides assessor inputs during robot design reviews and provides support to the Electronics Sub-Division.
Michael Herman

Mechanical – Electrical
This is Mike's sixth year mentoring the Pi-oneers. In addition to both an MBA and BSE from The Wharton School, he also holds a Bachelor of Science in Engineering from The University of Pennsylvania. He has always been a tinkerer, from building electric kits to model rockets, to his current hobby of restoring and rebuilding pinball machines. He loves to take things apart and hopefully reassemble them without too many leftover parts! This makes him well suited as a mentor for the Mechanical Division. This year he also hopes to learn from and work with the programming sub-division.
---
Rob Levy

Information Technology
Rob graduated from the Pascack Pi-oneers in 2009 as Co-CEO of the team and leader of the Information Technology Division. He has been a mentor of the Info-Tech Sub-Division for the past ten years. Mr. Levy is a graduate of Rensselaer Polytechnic Institute receiving a degree in Information Technology. He currently works as a Network Engineer for NBCUniversal and also volunteers for FIRST Robotics Competitions.
Danielle Fischer-Levy

Management, Outreach, & Design (MOD)
Danielle graduated from the Pascack Pi-oneers as Co-CEO of the team and leader of the Non-Tech Division in 2011. For the past seven years, she has mentored the Non-Tech Awards Sub-Division. Danielle graduated from Stevens Institute of Technology with a BE in Engineering Management and a minor in Economics. She is currently pursuing her ME in Systems Engineering at Stevens. Danielle works at Becton Dickinson in the in the Enterprise Architecture team. During competition season, she volunteers as an FRC Judge at the Mid-Atlantic Robotics District Championship and the FIRST World Championship.
Ryan Hall

Carpentry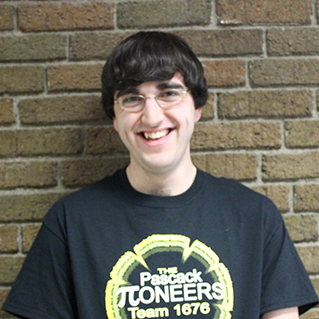 Ryan joined the Pascack Pi-oneers as a freshman for the 2010 season. He became leader of the Carpentry Sub-Division as a sophomore and was the team Co-CEO during his junior and senior years. Ryan also created the team's YouTube Channel, featuring full-field footage of each competition Team 1676 attends. After graduating from high school, he continued to support the team as an alumni mentor with the Carpentry Sub-Division. He is an alumnus of the University of Delaware, where he majored in Environmental Engineering with a concentration in Environmental Facilities Design and Construction and a minor in Civil Engineering. Ryan is currently employed at Langan Engineering & Environmental Services in Parsippany, NJ as an Environmental Engineer. The 2018 season marks Ryan's tenth year with the Pascack Pi-oneers and sixth year as a team mentor.
Ellen Drennan

Management, Outreach, & Design (MOD)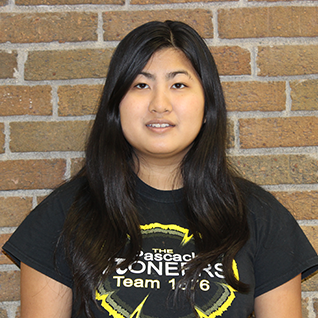 Ellen graduated from the Pascack Pi-oneers in 2015 as a four year team member. She served as Non-Technical Division Leader, Awards Sub-Division Leader, Strategy Sub-Division member and Drive Team Coach. Ellen has mentored the Management, Outreach and Design Division for the past three years, providing feedback on outreach projects, proofreading awards essays, guiding the Strategy team in collaborations with other FRC teams, and advising the Finance Sub-Division on the business plan. She attends Stevens institute of Technology where she is pursuing a major in Mechanical Engineering and a minor in Science, Technology and Society. Ellen has remained active in the FIRST community by becoming an FLL judge, an FTC robot inspector, and an FTC/FRC referee.
Eric Kasper

Mechanical – Carpentry
This is Eric's third year as a mentor after graduating from the team in 2013 and was a member of the Mechanical and Carpentry Sub-Divisions. He graduated from Clarkson University with a B.S. degree in Civil Engineering, and during that time was a mentor for FRC Team 229. Eric is employed by Schiavone Construction Company as a field engineer/estimator, and has achieved his E.I.T. designation.
Chris Killian

Mechanical
This is Chris' third year as an alumni mentor. After graduating in 2009 as a Mechanical Division leader and a four year team member, he returned as a mentor. Chris earned a Bachelors of Science in Mechanical Engineering from Drexel University in 2014 as a FIRST Scholarship winner and is currently employed at Pratt Whitney as a Mechanical Design Engineering. A long time supporter of the Pascack Pi-oneers, Chris volunteers whenever he can.
Matt Lantry

Mechanical
Matt has been a mentor with the Pi-oneers for the past five years. He graduated from the team in 2014 as the Drive Team Operator and Mechanical Division member. He is attending the New Jersey Institute of Technology majoring in Mechanical Engineering. Beside mentoring the Pi-oneers, Matt has mentored FRC Team 4475, FTC Team 7311 and 7312. During his time with Team 1676 he mentored three of the FLL teams in the Pi-oneers' district. Matt continues as a volunteer for FIRST as field reset at local competitions.
Robert Sarakin

Mechanical
Robert has been an alumni mentor for the Pi-oneers for five years. He graduated from the team in 2014 as Mechanical Division Leader and was a Super Scout during competitions. Robert is attending Stevens Institute of Technology majoring in Mechanical Engineering with a concentration in Mechatronics. As a Pi-oneer mentor, he is advising the Mechanical Division and has also mentored FRC Team 4475. Robert continues his involvement in robotics by volunteering as a Robot Inspector and designing robots for college level and hobbyist competitions.
Justin Solleder

Photography – Videography
Justin was a four year team member of the Pi-oneers in the Management, Outreach & Design Division. He was the Media Sub-Division Leader his senior year, and has returned as a mentor after graduating in 2016. He also was an FLL team member mentored by Team 1676. Justin is currently enrolled in an accelerated masters program for General/Theoretical Psychology at Fairleigh Dickinson University where he also interns for the college's public relations department as a photographer. As a first year mentor he trains students in photography, videography, and photo editing software. His long-term goals include earning a doctorate in clinical psychology and working in a healthcare setting.
Michael Wietzke

Mechanical – Chassis
Michael graduated in 2009 from the Pi-oneers as a four year team member. He was a leader of the Chassis Sub-Division, and a member of the Pneumatics and Manipulator Sub-Divisions. Michael earned a B.S. degree in Biomedical Engineering from Rensselaer Polytechnic Institute and a M.S. in Mechanical Engineering from New Jersey Institute of Technology. He was a Test Engineer at Aearco International and a Mechanical Engineer for Subsystem Technologies at Picatinny Arsenal. At this time Michael is a Mechanical Engineer for the US Army's RDECOM ARDEC (Research Development and Engineering Command- Armament Research Development and Engineering Center) at Picatinny Arsenal. This is his first year as a mentor for the team.
David Banovic

Mechanical
Following his time as a 4 year team member in the Mechanical Division, and as Drive Team Operator, David has begun his time as an Alumni Mentor, a position he has maintained for the past six years. David studied Technology Education at The College of New Jersey, and is currently employed as an Engineering/Technology teacher at Passaic County Technical Institute. As a mentor with the team, David works with the Mechanical Sub-Division helping teach the students how to use power tools and design different aspects of the robot. David is also a mentor for the Fieldstone Middle School FIRST Lego League Team for the past seven years.
Rebecca Spirer

Mechanical
Rebecca graudated from the team as a four year member; a part of the Mechanical Division, as well as the Drive Team driver. Her time as a part of the Pi-oneers was not over however, as she has continued on as an Alumni Mentor for the past 4 years, serving as the Drive Coach for the 2018 – 2019 season. All the while, she attends Stevens Institute of Technology, studying Mechanical Engineering.