The goal of Team 1676 is to operate in a safe manner through safety education, safety practices, and personal responsibility. On Team 1676, safety is a team culture: everyone takes an active role in looking out for the safety and well-being of each other.
NEW!
Safety Seminar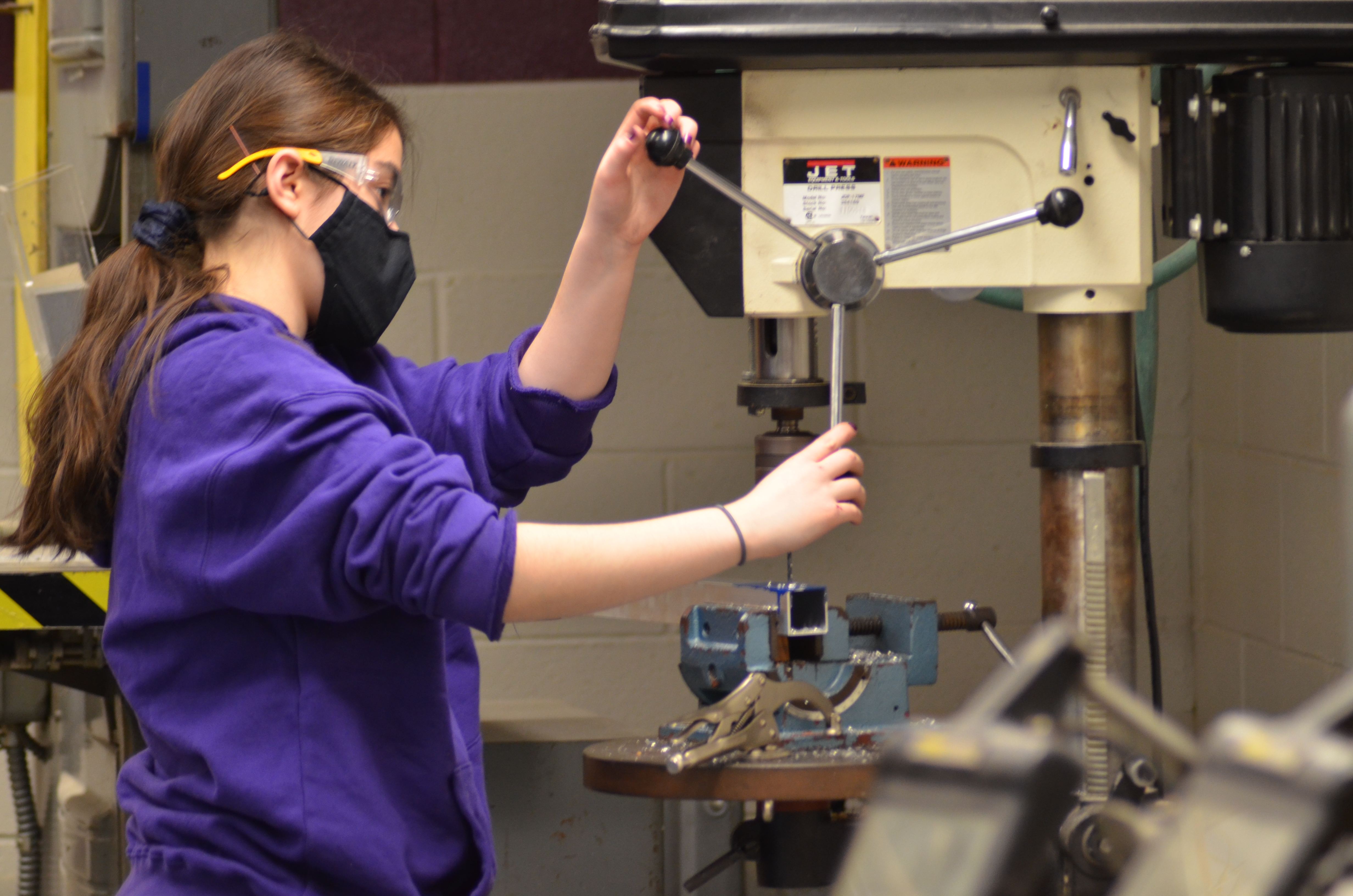 Team 1676 has begun to roll out their Safety Seminar video series to provide other teams with guidance on proper safety procedures. So far, these videos include Drill Press, Chop Saw, Band Saw, and Sander and Grinder safety.
Follow us on Twitter: @team1676safety
Follow us on Instagram: @frcteam1676safety
Safety Sub-Division
The Safety Sub-Division oversees team safety and enforces team rules. They are tasked with:
Enforcing basic safety rules and proper safety practices
Teaching team members how to safely use power tools
Managing Machine Certifications
Managing the team Safety Binder (including Safety Contracts, Machine Certification Chart, Injury Chart, Six Sigma integration, Safety Data Sheets (SDS), FIRST Safety Manual)
Instructing team members and mentors on steps to take in emergency situations
Holding weekly Safety Sub-Division meetings
Maintaining First Aid Kits
Advocating for safety in their school district, community, and FIRST
Safety Captain
The Safety Captain is appointed by the team to manage and oversee all things safety related, both at school and at competitions. Their responsibilites include:
Maintaining the team's Machine Certification Chart, Injury Chart, and Safety Binder
Developing the safety program and materials
Maintaining the team's First Aid Kits, Bug-Out-Box, Bug-Out-Bag, and other First Aid supplies
Overseeing Probation and Rehabilitation for safety infractions
Developing and integrating Six Sigma methodology
Maintaining an inclusive environment
Updating the Pit Attack Plan
Hosting Safety Meetings each week
Safety Advisors
Prior to Build Season, the Safety Captain appoints Safety Advisors from each Sub-Division. Safety Advisors are responsible for enforcing and upholding safety practices within their Sub-Division. Each week, the Safety Advisors participate in Safety Meetings to recap the events of that week, and to discuss ways to improve safety throughout the team.
Education and Awareness
The Pi-oneers foster an environment of safety awareness both in and out of the workshop. To ensure overall team safety, upon joining the team students must sign a Safety Contract, stating they will uphold all safety rules enforced by the team. Team members are required to pass a Safety Knowledge Test and obtain Machine Certifications. In addition to this, students are issued a pair of safety glasses to enforce the practice of safety in all areas of work.
The Safety Captain gives a presentation during Pi-Tech Academy discussing the team's safety curriculum to instruct students on proper safety practices. Potential team members are tested on the information presented during Pi-Tech. Passing both written and practical exams earns one a place on the team.
Safety Posters with safety information are displayed around the workshop and in front of tools, reinforcing basic safety rules, specific tool information, the 5S, and a tape certification key.
Each year, the Safety Sub-Division works with the Animation Sub-Division to develop a Safety Animation, which highlights basic safety procedures used during both Build Season and competitions.
Safety education is not limited to robotics. The Pi-oneers try to implement safety into other areas of the schools in their district. Team 1676 collaborates with the Theater Program, providing safety guidelines during set building sessions and stage design. In addition, the Pi-oneers have donated safety glasses and earplugs.
Team 1676 looks to reach out beyond their community in safety education. The Pi-oneers are presently producing a series of safety videos, including How To Safely Use power tools and a general safety video, that promotes basic safety practices.
Safety Practices
Team 1676 strictly enforces safety practices to ensure a safe environment at all times.
Basic Safety Procedures
The Pi-oneers enforce these safety practices for all team members, regardless of Sub-Division:
Always wear safety glasses
Wear closed-toe shoes
Tie back long hair (no ponytails)
Do not wear loose or dangling clothing (tuck in sweatshirt strings)
Do not wear jewelry or ties
Wear gloves while lifting the robot and while working with sharp materials
Always keep a safe and clean work environment
Machine Certifications
Mechanical Division members are required to be trained on power tools and pass a competency test for each machine shop tool. Certification is not limited to only mechanically involved Pi-oneers, but open to all members of the team. Once certified, team members receive a band of colored tape for their safety glasses, indicative of which tools they are certified to use:
Chop Saw → RED
Band Saw → BLUE
Grinder & Sander → GREEN
Drill Press & Hand Drill → YELLOW
Competition Safety
The Pi-oneers maintain their comprehensive safety program for Competition Season. On the bus, the Safety Captain reinforces safety protocol and highlights responsibilities for Safety Advisors. In case of an emergency, a designated meeting place is decided prior to competition. On the bus, team members are issued a personal First Aid/Care Kit, including emergency contact numbers. The Pi-oneers also employ a "Buddy System", requiring team members to travel in pairs.
In the pit area, the team maintains a well-stocked First Aid Kit, a portable fire extinguisher, two battery clean-up kits, complete with acid-resistant gloves. Extra gloves, hair ties, safety glasses, and earplugs are also available. The team's "Bug-Out-Box", a portable First Aid Kit the team takes to all events and competitions, contains materials used in any emergency situation. It is available at all times in the pit. Similarly, the "Bug-Out-Bag" is a second First Aid Kit that can be found at all times in the stands. A "Pit Attack Plan" is in place. All pit members have assigned duties to carry out in case of an emergency. Everyone is assigned a job to do in this order:
Pit Attack Plan
All pit members have assigned duties to carry out in case of an emergency and must check in and out of the pit when leaving the area. Everyone is a assigned a job to do in this order:
TAKE CONTROL → This person will be the coordinator to ensure that everything is under control and they will ensure the area is safe to help the person who is injured.
GO FOR HELP → This person will find a Pit Administrator, EMT, Safety Advisor, or a mentor.
SECURE THE AREA AND BACK IT UP → This person will back up the situation and square off the area.
PERFORM COMPRESSIONS → This person is CPR/AED certified and is in charge of giving compressions.
RETRIEVE BUG-OUT-BOX → This person will retrieve the First Aid Kit and other essentials.
RETRIEVE BATTERY SPILL KIT → This person will retrieve the battery spill kit, which contains baking soda, acid resistant gloves, bags, and paper towels, which will help clean up a liquid acid spill.
Wellness
Our Wellness Initiative, created by our Safety Sub-Division, is an evidence-based program that includes many different ways to support our coaches, mentors, and team members. A commitment to our robotics team comes with the need to manage a significant workload. Balancing the demands of school, family, social life, robotics, and other extracurricular activities without becoming overwhelmed can be challenging. Our goal is to support the team so that they can remain calm and focused, and to create a fun, efficient, and productive work environment.