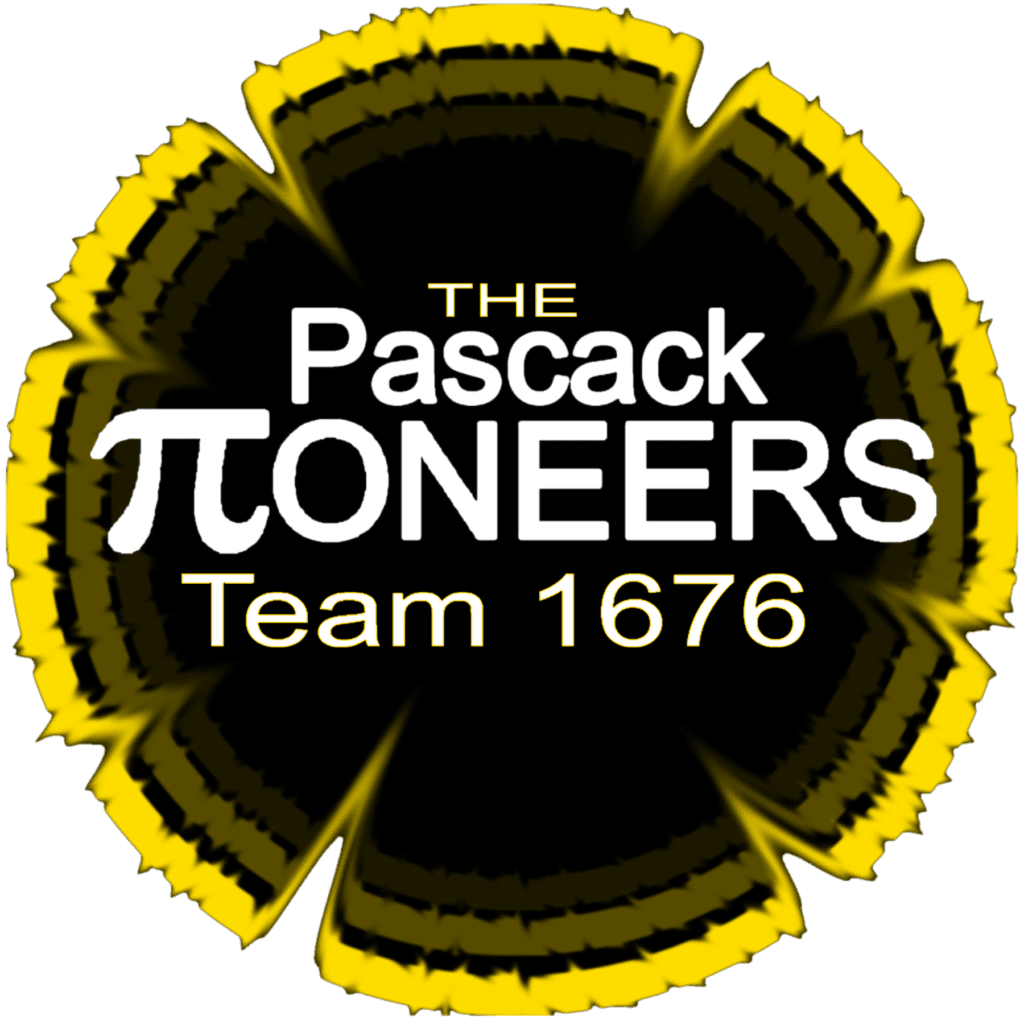 Once a Pi-oneer,
Always a Pi-oneer.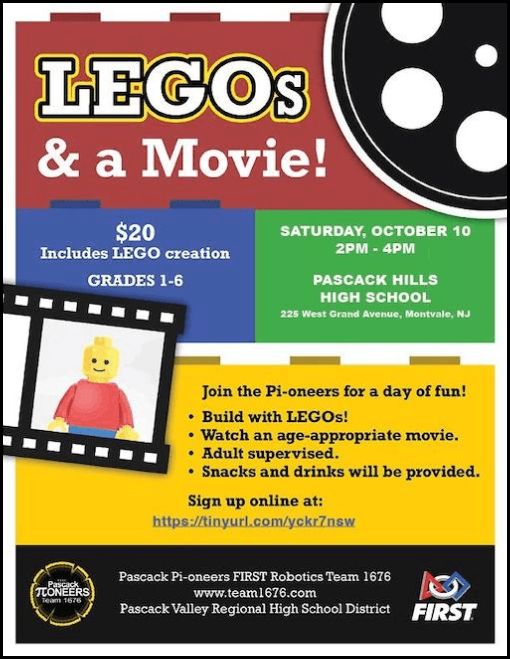 Legos And A Movie
The Pascack Pi-oneers FIRST Robotics Team 1676 is hosting the first LEGOs & a Movie event of the season. If your student is off from school, this is the perfect afternoon activity.
This Monday, October 10, Columbus Day, 2pm to 4pm
Pascack Hills High School, 225 West Grand Avenue, Montvale(do not go to Pascack Valley)
Grades 1 to 6
Snacks and drinks included
An age-appropriate movie will be shown
$20 fee includes their LEGO creation!
Participants will build with our team members and see a robot demonstration. Please arrive at 3:50 for the robot demo.
There is adult supervision. Please print the permission slip you will find on the sign up to bring with you: https://www.signupgenius.com/go/10c0c4ba8aa23abf85-legos4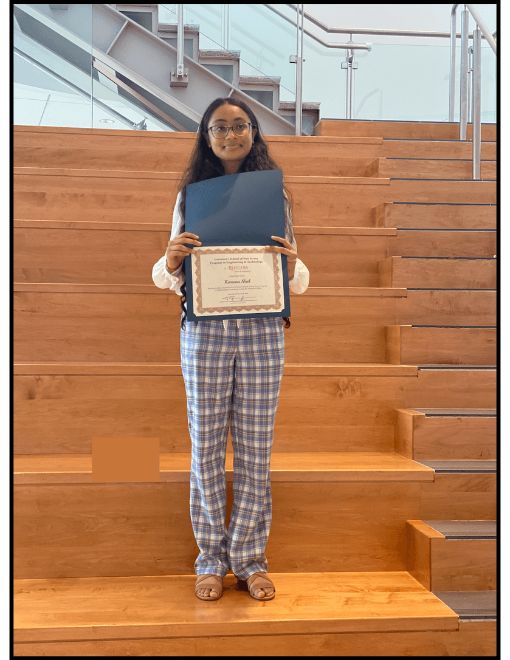 #PascackProud
We want to acknowledge the great achievement of senior team member Kareena Shah for her successful participation at the Governor's School of New Jersey Program in Engineering and Technology. Kareena works in the Mechanical Division of the team, is the International Project Group Co-Leader, as well as being a member of the Presentation Team at all competitions. Congratulations Kareena!
Learn more
Our Mission Statement
The mission of FIRST®Team 1676, the Pascack Pi-oneers, combines the fundamental beliefs of FIRST®with the desires of our team members to pursue and promote future careers in science, technology, engineering, arts, and math (STEAM) and to provide STEAM education for our community. Our goal is to operate as a cohesive team, competing with Gracious Professionalism under FIRST®and developing our students' abilities to inspire, create and develop as individuals and collectively as a team. We strive not only to build a successful robot but also to master and exhibit the many life-skills necessary to succeed beyond FIRST®Team 1676.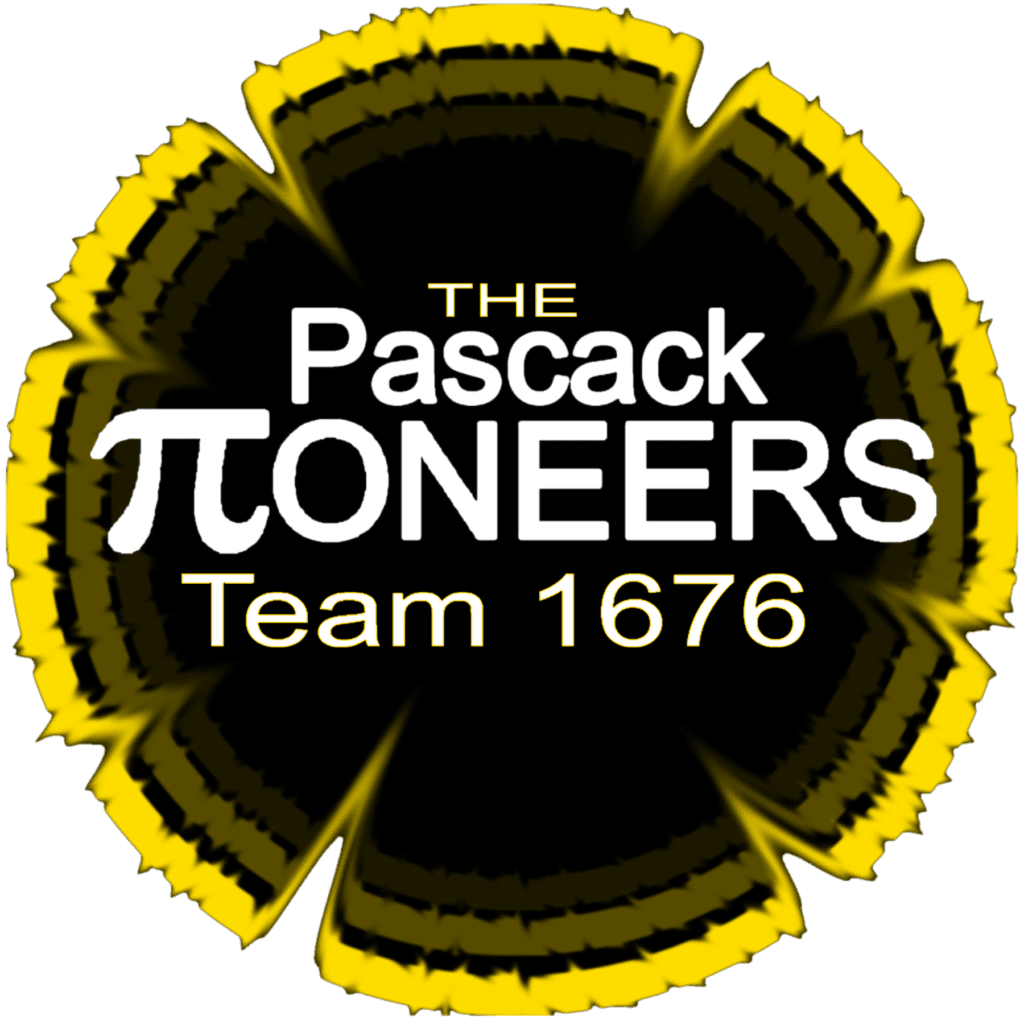 FIRST Robotics Competition
Combining the excitement of sport with the rigors of science and technology. We call FIRST Robotics Competition the ultimate Sport for the Mind. High-school student participants call it "the hardest fun you'll ever have."
Under strict rules, limited time, and resources, teams of students are challenged to raise funds, design a team "brand," hone teamwork skills, and build and program industrial-size robots to play a difficult field game against like-minded competitors. It's as close to real-world engineering as a student can get. Volunteer professional mentors lend their time and talents to guide each team. Each season ends with an exciting FIRST Championship.